Hey readers! I hope all of you had an exciting start to October. I had a great 19th birthday last Tuesday and a small get-together with old friends from high school Saturday.
Well, certainly you've all noticed Abercrombie & Fitch Co.'s recent ventures in pop culture and mainstream via "What does the Fox say?" references (need I remind you of this
video
?) and Hollister's recent partnership with Keds. Naturally, these are all more attempts to get customers in stores after their disappointing second quarter sales. If you want a summary, you can find my post about it
here
. However, simply referencing pop culture isn't enough to ease customers back into the brand... So now they have two contests going on quite late into the BTS/Fall 2013 fashion season. I will describe them both and analyze them.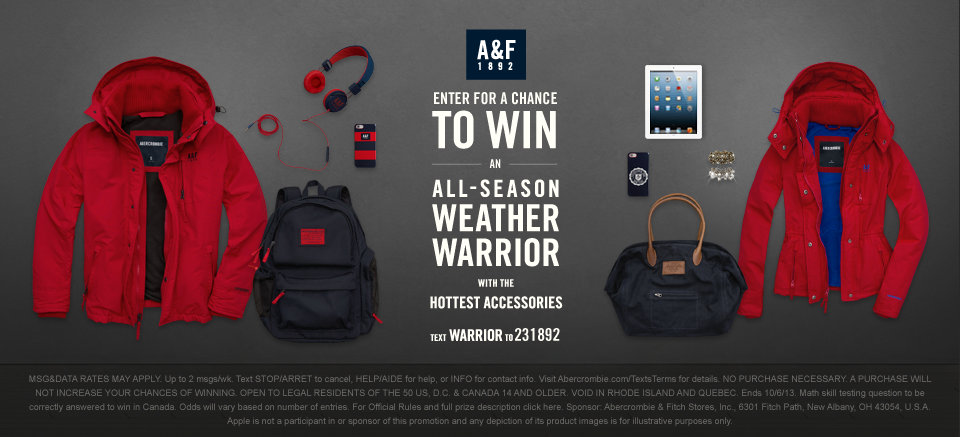 Official details can be found here.

A&F is giving away roughly US$930 worth of merchandise to two lucky winners for simply applying online or by text message. Now, that is almost $2000 worth of merchandise. Personally I see that as "grasping at straws." It's a particularly expensive contest that I don't see helping much. Although, I did still sign up for it. What the heck, right?



Official details can be found here.
The second contest by Hollister requires in-store participation (recall: Hollister lost the highest percentage of shoppers, thirteen percent, during the Second Quarter of 2013), and I certainly won't be participating. If you thought the A&F contest was costly, the Hollister contest will really surprise you. Apparently, it requires customers to go in-stores and scan Hollister sweatshirts (via the smartphone app) for a chance to win a sweatshirt (max value of US$69.50). Seventy winners will be selected, and I just did the math: the contest will cost at least US$4,865 for the Company.
It's a well known tactic in the retail industry to drive revenue by using contests to lure customers. However, I'm not sure if A&F's contests have had positive effects on the its income yet. I would love to hear about the contest's impact on customers in-store from any Hollister employees.
Have a comment? Leave it below!
Later,
Marcus